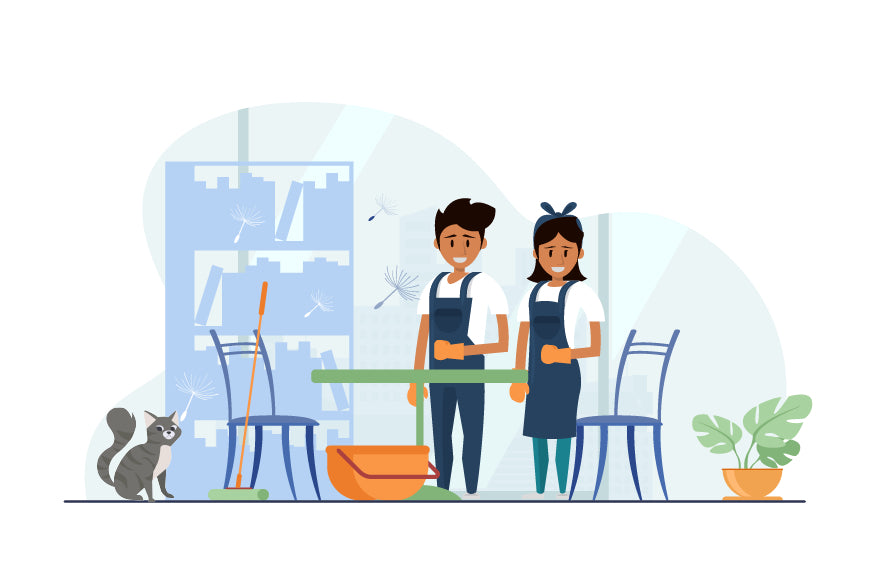 Allergen-proofing can save your clients 300 tissues per month.
It's soon about to be Fall in Canada. The ragweed that we know and love will be primed to cause your clients' noses to do more running than they hoped to do during spring. Studies show about 75% of people with spring allergies also react adversely to Ragweed Pollen, and even if Ragweed doesn't make up for much of the flora around your town, Ragweed pollen can travel hundreds of miles solely to attack a defenseless pair of nostrils. Mold is another trigger for people prone to allergy, and dust mites stay prepped to ambush you the very first time you turn on your heating in the fall. Now you get it, allergy-prone people have it rough even in the Fall. So it's no wonder that a home cleaning crew that specializes in allergen-proofing is a godsend for these hapless homeowners. Adding this specialization to your repertoire is easy, and you can brag about saving them almost 300 tissues a month. Here's how!
The Essentials of Allergen-proofing
1. The Duster
When you use a cotton rags for cleaning, or even a feather duster, all it does is recirculate the dust to another part of the room. You'll need something that attracts dust like a magnet would. Microfibers or Lambswool are your best bet. You'll need a bunch of them to reach different places in the home you're sprucing up, and The Rag Factory's immense range of Microfiber products have you covered with plenty of sizes to equip yourself with.
2. The Mop
The floor is where you'll be doing most of the heavy lifting, because you'll be using a damp or wet mop if you want to stand a chance against allergens. You'll want one that's machine washable and tough, and microfiber-based mops are the way to go here too. This one here is our pick of the lot.
3. The Wipes
While you're at it, why not disinfect and sanitize the place altogether with these Sanitizing Wipes that are safe for your hands, but pack so hard a punch against micro organisms, they make short work of SARS-CoV-2. They leave a lemony scent after a job, which your clients will remember you for.
4. The Disinfectant Spray
The furnishings are where most of your pollen, viruses and bacteria choose to camp out. They also invite mildew and mold to fester and procreate. Bomb them all into oblivion with an all-in-one disinfectant spray, and never let them be mentioned by your clients again!!
5. The Armor
While you cover the basics of allergen-proofing at your client's residence, you've also got to make sure to keep yourself covered. These powder-free nitrile gloves ensure you're comfortable and safe against your own weapons (disinfectants, sprays, sanitizers and the likes). And to top off your protection against friendly fire, be sure to use one of these N95 facemasks.
Allergy-prone households won't mind spending the extra loonie on allergen-proofing, especially when you'll be helping them save on sick days, medicines and upwards of 300 tissues a month. While you're at it, let them know that you've got the best kit in town! Get in touch with us at the Rag Factory, and ready yourself with the best in cleaning supplies. We'll also tell you a lot more about allergen-proofing over a double double, anytime you'd like!
Related Posts