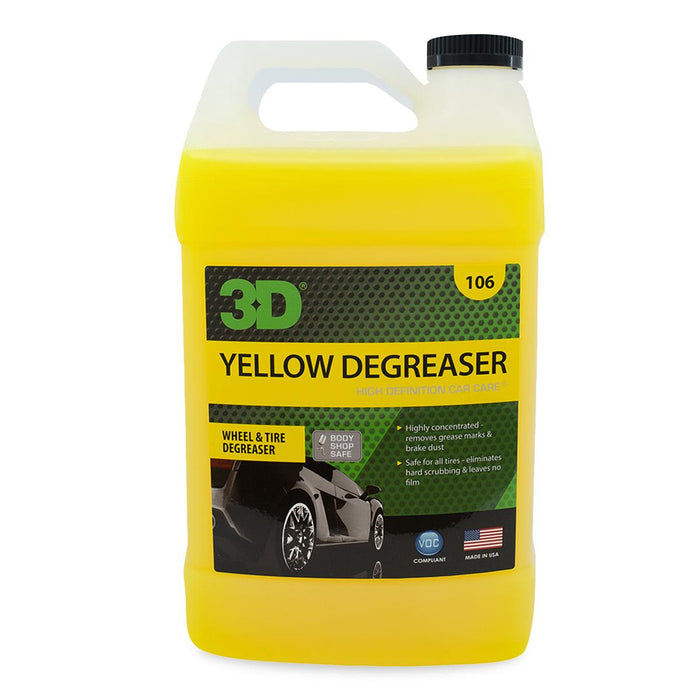 3D Yellow Wheel, tires and Well Degreaser
Original price
$11.69
-
Original price
$30.87
Your Ultimate Solution for Effortless Wheel and Tire Cleaning!
For spotless wheels and tires with 3D Yellow Degreaser™ - a powerful and safe cleaner specially designed for wheels, tires, and wheel wells. It effortlessly emulsifies grease and grime, eliminating the need for hard scrubbing. With its high concentration, this cleaner works wonders on brake dust and tough dirt, leaving your wheels shining like new.
Worry no more about harming your wheels. 3D Yellow Degreaser™ is crafted with a non-acidic formula, making it perfectly safe for all wheel types, including coated, chrome, painted, wire, plastic, and stainless steel. Even delicate non-coated alloy wheels prone to blushing and staining stay protected when cleaned as directed.
But it doesn't stop there - 3D Yellow Degreaser™ is also perfect for your tires! Whether you have white walls or raised white lettering, this cleaner handles it all. Just spray it on, and watch as the embedded dirt effortlessly comes pouring out.
Not only does 3D Yellow Degreaser™ make your cleaning process easier, but it's also cost-effective. Its super strength cleaning power reduces the need for excessive scrubbing, saving you time and effort. Plus, it's non-toxic and 100% biodegradable, ensuring both your client's vehicles and your employee's health remain protected.