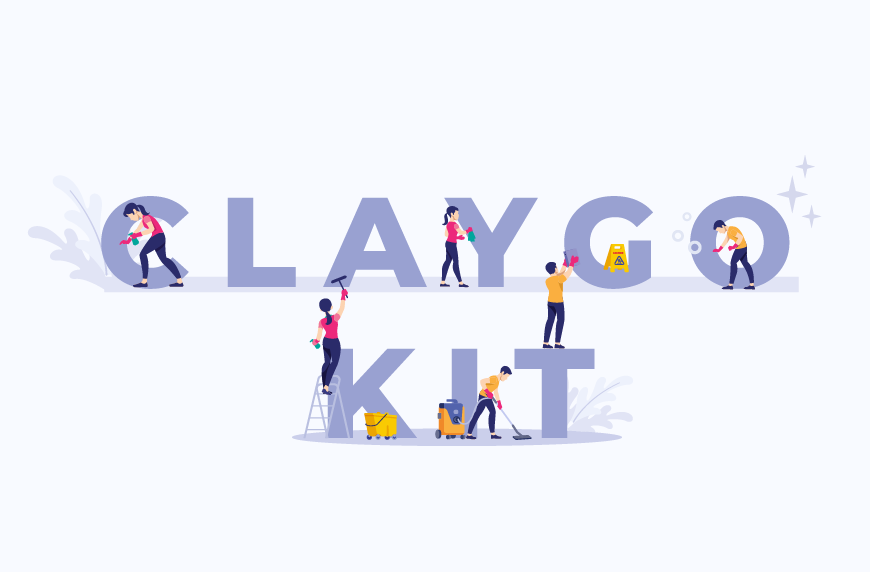 The Rag Factory Starter Pack for Clean-as-you-go Workplaces
Understanding The CLAYGO Workplace Wave
Let's face it, asking employees to clean up after themselves may encourage them to see 'Clean As You Go' or 'CLAYGO' as a cost-cutting strategy being implemented in the company. But here's a cold hard fact you can't ignore:The average workstation houses 10 Million bacteria. That's 400 times dirtier than a toilet seat. So it is no wonder that in the average office during a pandemic, the germs on our workstations are primed to earn the employee of the month award. And there's just no way the janitorial staff can keep constant vigil over the cleanliness of each and every employee's surroundings. The obvious answer to this problem is: Each employee must take up the additional responsibility to maintain a cleaner, more hygienic workplace. This blog will help you understand how to implement a CLAYGO policy at your workplace. It will also tell you about the tools you'll need to help your employees fulfill their CLAYGO responsibilities.
What Makes Up A Good CLAYGO Policy?
A good CLAYGO policy is appropriately responsive to the cleaning requirements of your workplace's many zones. Prioritization is the key to a good CLAYGO policy, and the sooner the employees get acquainted with how to prioritize cleaning in their schedule for the day, the easier the implementation will prove fruitful. Generally, CLAYGO tasks are categorized in two ways - Scheduled Cleaning and Immediate Cleaning.
Scheduled Cleaning
Door knobs, the dishrag in the kitchen, coffee cups, your mouse and keyboard, and your workstation desk. These are all things your hands are the most acquainted with. Scheduled cleaning of such zones in the workplace at least once per day is important. Don't forget to assign roles for employees to keep an eye on their nearest waste bin.
Scheduled Cleaning Essentials:
Disinfectant Spray

Lambswool Extended Duster

Hand Sanitizer with Pump
The duster, microfiber and Disinfectant spray are the ideal tools to use to clean your workstation desk and personal items like your keyboard, mouse and coffee cup. We suggest using a glass microfiber cloth because they attract dust way better than conventional cloth. The lambswool extended duster is a nifty tool that enables you to clean areas that are difficult to reach, like the underside of your workstation. A Hand Sanitizer Pump can be refilled with sanitizer liquid whenever it runs out, saving you money while using less plastic.
Immediate Cleaning
We all spill stuff. At home, we're predisposed to cleaning up after immediately, but employees may want to wait for a janitor, or worse, do a haphazard job of cleaning it up themselves. Liquid spills and dropped food form dangerous feeding grounds for germs, and broken items are trip hazards that can cause injuries. If there's a designated cleaning kit for such incidents at the workplace, employees are encouraged to clean up after themselves properly.
Immediate Cleaning Essentials:
Floor Mop with Handle

Heavy Duty Floor Disinfectant

Angle Broom

Dust Pan
Ensure your policy covers the proper way to manage liquid spills, and safety tips for handling broken glass or other sharp objects on the floor. Encourage employees to use the disinfectant after a food or liquid spill, to ensure no buildup of germs is allowed. A Dustpan with a Clip-on brush is ideal for quick cleaning of broken glass or foodstuff.
What Makes Up A Good CLAYGO Policy?
The ideal CLAYGO policy lays out who does the cleaning, when they do it and exactly how they do it, for various situations. Ensure to properly take your staff through immediate cleaning procedures, as you cannot micromanage such incidents when they happen. Once your current employees are accustomed to the policy, put someone in charge of showing new hires the ropes in terms of the CLAYGO policy.
Employees whose workplaces have successfully implemented CLAYGO understand that the cleanliness of the whole workplace is a responsibility that falls on each employee's shoulders. A crucial aspect of CLAYGO's successful implementation is the ready availability of a comprehensive cleaning kit in an accessible location in the office. The Rag Factory has developed a great kit for you to get started on your journey to a cleaner, more hygienic workplace. Click here to check it out, and best of luck!
Related Posts